The online fashion designing courses are the unit that focuses on the basics of fashion designing. Doing everything online is the latest trend or say it has become a fashion.
Many students are opting for online courses due to various reasons. They may find that the University they want to apply is far off or maybe they don't have much time to spare to go to college. The online courses are a savior in such scenarios.
The students learn costume designing and construction, sewing, tailoring, sketching, pattern making, and all about the different fabrics. Students need a good internet connection in order to view the classwork and submit assignments on time. Many universities offer online courses for fashion designing.
Top 10 free online fashion designing courses
Several courses are offered through OpenCourseWare (OCW) websites. They provide lessons and learning materials that were used before in various colleges.
Students do not get college credit by using these free resources but can get good knowledge about various aspects of fashion designing. Various online courses are:
It is a downloadable course that gives the basic instruction on cloth draping and drafting. Students can learn the basics through lectures, reading, and projects. Students require a good internet connection and a sketching pad to submit their assignments.
2. The Craft of Costume Design Course by Massachusetts Institute of Technology
It is a 25 session fashion designing course that allows the student to download the materials. There is an instruction manual that allows the student to view the work of other students who have completed their work. It explains the use of various materials and using them to make dresses without sewing.
3. Fashion DrawingTutorials by Fashion Era
It includes downloadable text and drawing templates. It helps in learning the basics of sketching which includes posture and poses of models with fashions of prior decades.
4. Sewing Essential Online Video Course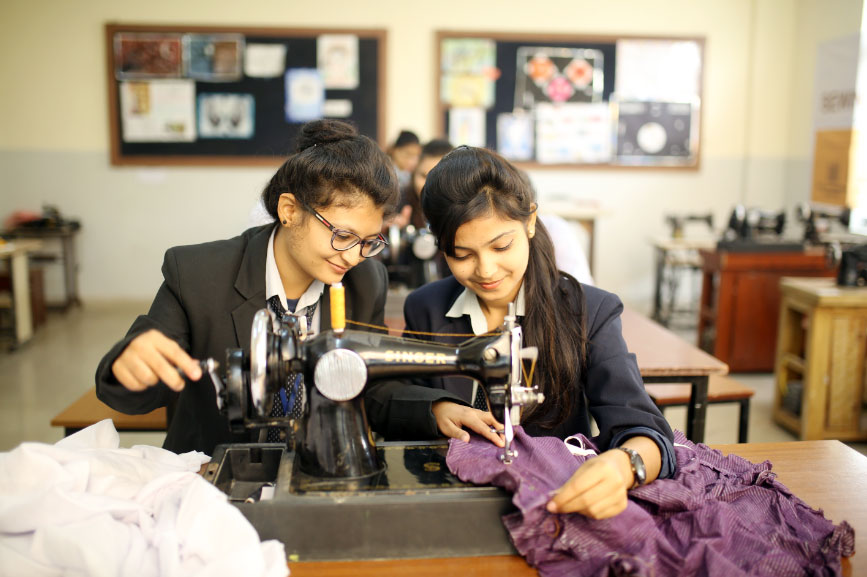 It gives free sample video lessons on pattern-making, garment sewing, and alterations. 
Students get exposure to various entrepreneurial options available in the field of fashion.
6. University of Fashion
Most of the courses need a subscription to get access to various lessons but, they provide many free samples also.
There are many practical advises from a successful entrepreneur in the field of fashion. It helps a budding fashion designer in setting their own business.
8. Fashion History at Business of Fashion
Colin McDowell is the guide for this masterclass. He gives guidance and explanation about the couturiers of the 20th century.
9. Fashion Marketing and Communications at Business of Fashion
The course helps in learning the PR and marketing strategies required for the leading brands to promote their fashion and couture.
10. Fashion Business Basics at Business of Fashion
It guides the students on various basics of starting the fashion business from scratch.
You may also love to read: Fashion in India | Indian Fashion Facts
8 ways to learn fashion designing at home
Fashion designing is a field that provides ample opportunities for work. People who are unable to go out and give full-time commitment can also pursue their dream to become a fashion designer.
They need to give time to build their knowledge, skills, and confidence. Mentioned below are steps to learn fashion designing at home and achieve success in the field of fashion designing:
1. Study Fashion Designing courses
Before going ahead it is important to ensure that the person understands the mechanics and specifics required to bloom in the fashion industry. One should start gaining knowledge from online study courses and try to become a part of it.
2. Develop the skills
Even though the person is very creative and has a good vision, it is of no use until it is implemented practically. There are always chances of improvement so as to achieve higher goals in the fashion industry.
3. Focus on the Efforts
Learning the course at home is not as easy as it sounds. Many efforts are required to master the basics of fashion designing. One should decide the area of interest in fashion designing and should concentrate on that.
4. Find the Unique Selling Point
Finding USP or Unique Selling Point is very important for the fashion brand. The sellers should have answers to the questions about the uniqueness of the product and their differentiating factors from other designers. The seller should make every effort to emphasize on USP.
5. Build own fashion brand
Although people learning from home are not professional fashion designers, they should act like one. They should build their brand and promote it on social media. It should have a strong portfolio to attract customers.
6. Network constantly
Networking holds a very important place in the fashion industry. Knowing the right people at the right place can help in achieving great success.
7. Be prepared to start small
Success doesn't come at once. Whether the business is small or big has no value. What matters most is that the customers wear and appreciate the designs. The expectations should be realistic and there is nothing bad in starting small.
8. Be Unwilling to Quit
No one achieves success overnight. Lots of hard work, effort, and dedication is required to be successful. So, never give up and quit. Keep on trying and success will definitely come.
Are the online fashion designing certificate courses worth it?
There are many fashion designing courses available online which are either full-time or part-time. They have different duration of completion ranging from4 weeks to 12 weeks.
They provide certification as a fashion designer on completion. The student can sit at home and do the fashion designing course. These courses can help further in setting up business and entering the world of fashion designing. The online fashion designing courses are really worth for people who want to fulfill their dreams of becoming a fashion designer but could not pursue the course by going to colleges. It opens wide horizons in the fashion industry.